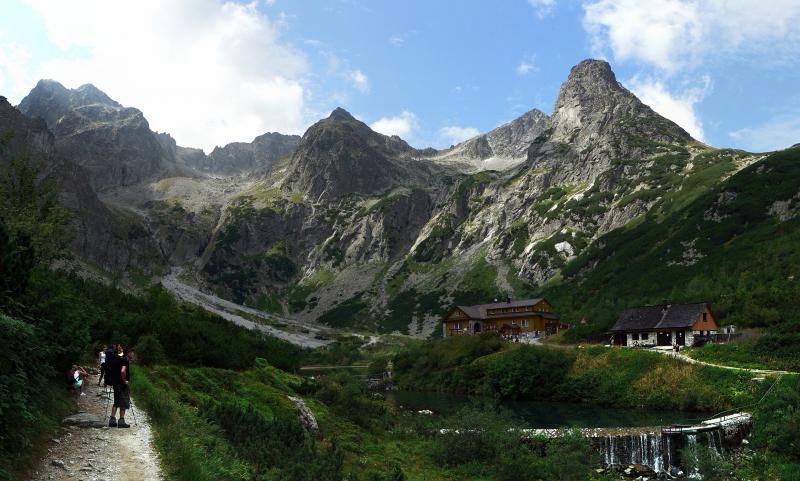 Slovakia is a relatively "young" country in the heart of the Europe which is still not very well known, but it has much to offer. With a lot of mountains, caves, springs, castles and many beautiful historic towns and villages there is plenty to see and do.
From Samo`s empire to the Slovak republic
First settlements of the current Slovakia are dated to 4th century BC by Celts. During the migration of nations period the first Slavs arrived here and Samo`s empire was established  in the mid-7th century with the territory of Slovakia as its central part. This was followed by establishment of the Nitra Principality at the beginning of the 9th century and finally the Great Moravian Empire was established in 833 AD – the first common state of the Slovak and Czechs ancestors.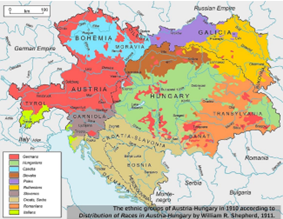 After the fall of Great Moravia, the Old Hungarian tribes invaded the territory of Slovakia and this territory became part of the Austria-Hungary for the long thousand years. At the end of 18.th century the Slovak-speaking population started thinking about their sovereignty, the Slovak language was codified, national cultural and scientific organization was founded (Matica), but this was halted by the efforts of Nobility to Magyarize all population at it´s the territory, which lasted 50 years and was stopped only due to the first world war. During the war Slovaks and Czechs formed common legions in Russia, France, Italy and fought among Triple Entente against Germany and Austria-Hungary. This got Slovaks and Czechs to the winning side of the war which helped in forming Czechoslovakia when the war was over.
During the second world war Czechoslovakia was split for the first time. On the Czech soil the protectorate was created, and Slovak part was transformed into puppet state. The resistance to the regime of the population escalated to the Slovak national uprising, during which opposition to the regime fought against Germans and got hold of the whole central part of Slovak territory. After the war, the Czechoslovakia was reunited, but this time, as Czechoslovak territory was liberated by the Soviet army, the federation got into the eastern sphere of influence. At the end of 1960´s there were political efforts to reform the communist regime, bring it closer to the west, but the central government in Moscow didn´t like that idea and decided to occupy Czechoslovakia with half a million soldiers on 21. august 1968. This led to the era called "normalisation" and the Warsaw treaty troops stayed in the Czechoslovakia till the Velvet revolution in November 1989. This ended 41 years of communist party rule.
On 1 January 1993, Czechoslovakia peacefully split into two countries, the Czech Republic, and the Slovak Republic. Czechia is still the very close partner (often called by the other "brother nation") and there are many family connections between the countries. Since then Slovakia became a member state of EU and NATO (2004), in 2007 joined Schengen area and uses Euro (2009).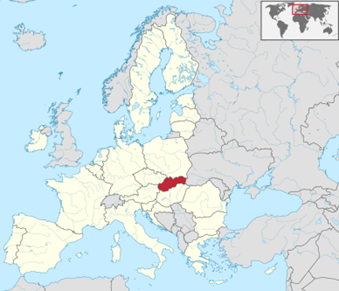 Who are we?
Slovaks are a central European nation of approximately 5 million people, but you can find significant minorities all over the world, like in neighbouring Czech Republic (200 000) and Serbia (60 000) or USA (800 000) and UK (90 000). Slovak language (or Slovenčina) is known to be among the most difficult languages one can learn. It has the longest alphabet in Europe and belongs to West Slavic language family among Czech and Polish. Due to close ties to Czechs, we can understand each other perfectly. There are even Czech TV channels in Slovakia and vice-versa.
Folk crafts, costumes, music and dances in Slovakia are passed on from one generation to another. There are different cultural traditions and folklore in every valley. Many folklore festivals and performances are held in Slovakia throughout a year (Podpolianske slávnosti, Východná…). Slovak overtone flute called "fujara" as well as Music of Terchová were included in the UNESCO List of Intangible Heritage, the Radvaň Fair and "gajdy" bagpipes are on the waiting list. An example of wooden folk architecture in Slovakia can be seen in the well-preserved village of Vlkolínec which has been the UNESCO World Heritage Site. There are the world's most remarkable folk wooden churches from which some are on the UNESCO World Heritage list as well (Bodružal, Hervartov, Ladomirová and Ruská Bystrá). In Levoča you can find the world´s tallest wooden altar and in the region of Gemer there are gothic churches protected by European heritage label.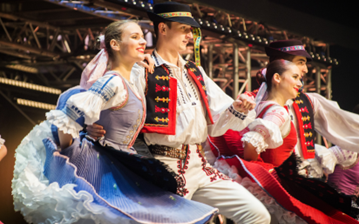 In Slovakia everything and everywhere is nearby. It just takes a couple of hours to get from the Danubian Lowland to the Carpathian Mountains, still bodies of water are just at a stone's throw from turbulent river rapids. You can get swiftly from urban agglomerations to secluded, romantic highway gateways with unspoiled nature. Among the most visited places for nature lovers are definitely national parks, namely High Tatras (Starý smokovec, Štrbské pleso…) but also Slovak paradise, Low Tatras and Veľká Fatra and much more.
Due to its geographical position, Slovakia's always been an important trade and cultural intersection. In a relatively small area influences and remnants of western as well as eastern cultures or religions can be detected. In Slovakia you can find northern discipline along with southern temperament, and western rationality with eastern emotionality. It is reflected in eventfulness of everyday life.
During almost three decades of its existence, we've gone through dynamic changes and even though there is still much to improve, new things emerge every day. We surprise the world by our advanced technical level which goes hand in hand with human touch. Since Czechoslovakia, technology has driven our economy and by now a lot of people work in industry. With the 5th carmaker company opening a production plant in Slovakia, we are by far the largest car producer per capita in the world. Of course, it is not only about cars. The production of electronics, electrical equipment, rubber, metallic and non-metallic materials, presence of large international cybersecurity company, fastest ultralight aircraft and much more. New companies are founded every day, new objects or city landmarks emerge, life conditions are improving, but we keep our traditional values as well.
We are a nation of skilful and innovative people who succeeded abroad. This can be demonstrated by World-changing inventions, that are associated with the Slovaks as Joseph Maximiliam Petzval (inventor of photographic objective lens), Jozef Murgaš (inventor of wireless telegraph), Jan Bahýľ (inventor of helicopter), Štefan Banič (invetor of a parachute), Aurel Stodola (founder of the theory of steam and gas turbines), Ivan Alexander Getting (inventor of GPS), and many others. In a field of culture we are famous for the founder of pop art, Andy Warhol, well-known are names and performances of tens of opera singers, painters, photographers and sportsmen.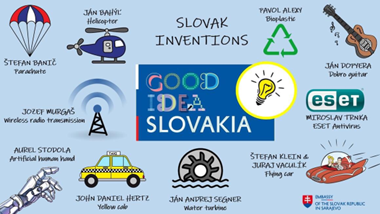 Talking about sport, the most popular sports in Slovakia is ice hockey. Slovakia is according to IIHF the 8th highest ranking country in this sport. We have won bronze medial at the Winter Olympics in Bejing 2022. The next popular sports are football, cycling, tennis, biathlon, alpine skiing, ball hockey, and canoe slalom.
Habits in Slovakia
When entering a Slovak dwelling the residents change their shoes in the entrance hall and offer some house slippers to the guests as well. In many households it is considered as misbehaviour, if you move in the dwelling space in shoes, which is used outside.
To offer the guests a shot of slivovica (a strong, colorless alcoholic beverage primarily made of distilled fermented plum juice, often referred to as plum brandy) or similar distilled liquor (hruškovica) is considered here as a demonstration of hospitality and respect and if there is not a cogent reason, it is impolite to refuse such an offer. This is especially true in the country, when the residents offer distilled liquor of own production (home made liquor).
When meeting/welcoming the acquaintances are shaking hands. Close friends or family members usually kiss once on the cheek or both cheeks and hug slightly. When introducing strangers it is polite to shake hands, in a more informal atmosphere also to give peck (fleeting kiss).
It is a habit in Slovakia to use the formal second person plural "vykanie" in official relations and meetings, the informal "tykanie", is usual in families and among friends, eventually close colleagues( and is similar to being on first name with someone).
In Slovakia it is a custom to eat 3-times daily, whereby the most is consumed usually in the lunch time between 11:30 – 13:30 h. The dinner consists of soup and main course, sometimes also a dessert. For supper warm meals are served often, as well, generally between 18:00 – 21:00 h.
Practical information
Safety
The situation in Slovakia is in this aspect similar to all the European neighbouring countries. Especially in places, where many tourists pass by (i.e. The Old Town / Staré mesto in Bratislava, bus and train stations, means of transport), you have to pay attention to your personal stuff and valuables.
Languages
English and German are the most often used foreign languages. Less frequent is the knowledge of French, Spanish, Italian or Russian. In the South of Slovakia Hungarian is used many times.
Smoking
In catering facilities, in trains and at workplaces smoking is allowed only in areas reserved for smokers. Smoking prohibition is valid in closed public areas (covered bus stops, closed sports fields), in publicly accessible spaces (stations, cinemas, theatres, museums, galleries, exhibition grounds and similar) and at schools.
Internet
In all larger towns there is internet access possible in internet cafés located mostly in malls, larger bus or train stations, but also in smaller streets close to the town centre. Even some libraries provide this service. The zone of free wireless connection is in Bratislava in the Primates and Hviezdoslavs Squares (Primaciálne a Hviezdoslavovo námestie).
Water drinking
There is drinking water from the taps, besides some very exceptional cases, when a notification warns about the possible defect.
Mobile phone network
Mobile operators on the area of SR: Orange, Slovak Telekom, O2, 4-ka
Slovakia really well covered by mobile phone networks, which enable calls also from some peaks of Tatras. Only very distant areas are without signal.
Health services
There are hospitals in all larger towns. In smaller towns and tourist areas outpatient clinics and pharmacies are available. Pharmacies are open usually on workdays from 8:00 to 18:00, during weekends and holidays there is always one pharmacy in town non stop on duty.
Transportation
As in all other European countries, the road and rail network in Slovakia is certainly the backbone of the Slovak transportation system. Rail has one advantage tough – for students you can get a free transportation on the national carrier ZSSK, which is definitely a great opportunity for exploring the country and all of it´s corners. Trains are running almost in every bigger city and are subsidized by the Government (for example trains from Košice to Bratislava runs every 2 hours, trains to High Tatras usually every hour). Most of the trains are operated by Slovak railroad company ZSSK but some are operated by small international players (Regiojet connecting especially Slovakia with the Czech Republic and Leo Express with night trains from Košice to Prague).
Bus traveling is very popular in Slovakia and there are two types of busses in Slovakia – local and international. Local busses might be either public transport busses (operated by cities or districts) and country buses (connecting cities within the given area). Busses are subsidized by government, so the price of traveling is very convenient – around 2€ for 50km ride with discounts for students.
International connections are operated by smaller local players (such as Slovak lines) or big international players (Flixbus). There are direct connections basically with any country in Europe.
There are several international airports in Slovakia, the most important are Milan Rastislav Stefanik Airport, Košice International airport, and Poprad Tatry airport. There are also low-cost airplane companies operating in Slovakia, especially Wizzair from Košice and Ryanair in Bratislava. On the same hand, students may come to Slovakia also through neighbouring countries, such as international airports in Vienna (from which there is a direct bus to Bratislava every hour operated by Slovak lines), Budapest, Katowice or Krakow.
Important numbers
SOS, emergency call – 112
Police – 158
Firemen – 150
Ambulance – 155
Mountain rescue – 18 300
Cuisine
Because of Slovakia's central location and complex history, many Slovak dishes also exist in the surrounding countries, but Slovaks have added their own special twist to their local cuisine. While you can get dumplings in any Central European country, you can only find true bryndzové halušky in one place: Slovakia. So, bon appétit, or Dobrú chuť!
The Slovak national dish is "bryndzové halušky" – a sort of potato dumplings (halušky) with special sheep cheese (bryndza) and usually also topped with fried bacon. You can get this specialty in regular restaurants, too but it tastes best in typical wooden sheds or chalets, where also other traditional Slovak meals are on the menu.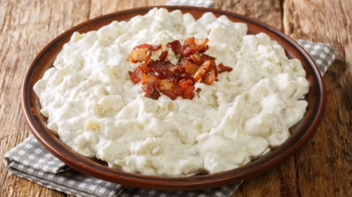 Next popular dish is pierogis stuffed with bryndza (bryndzové pirohy). Bryndza cheese makes another appearance in Slovakia's take on a Polish classic – the pierogi. Slovaks stuff these potato dumplings with bryndza cheese, then slather sour cream on top, and finish it off again with pieces of fried bacon. This dish is often accompanied by a glass of žinčica, sour sheep's milk. With a tangy fermented taste, it's not for everyone, but it's definitely worth a try!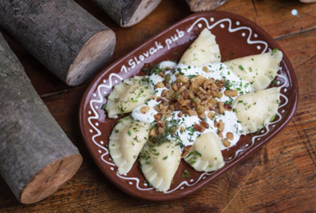 Cabbage soup makes an appearance at every traditional Christmas dinner, but is also enjoyed year round as an appetiser before the main meal. Sauerkraut is mixed into a creamy base with boiled potatoes, mushrooms, chopped ham, paprika, black pepper and garlic. The soup is served warm, and when eaten with freshly baked bread it is very filling.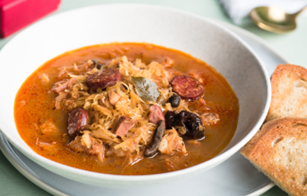 Next very polular soup is definitely Goulash soup (gulášová polievka). It´s another food that takes on a variety of modifications in many Central and Eastern European countries. In Slovakia, it usually consists of beef, onions, potatoes, peppers, tomatoes, garlic and a spice mixture. This food is very popular at sporting, folk events, but also at family reunions or friends parties at weekend houses. It is most often cooked in a cauldron over an open fire. You can find goulash soup next to the courts at a tennis tournament, or at the finish line of a 5K race, at folkore festivals but during weekends in most rural villages and homesteads where people from towns go to spend free time. The intoxicating smell lures you in as the soup cooks for several hours.
Pork with dumplings and cabbage (vepřo knedlo zelo) has to be on the list as well. Stewed cabbage accompanies soft pieces of pork covered in garlic next to knedle, or bread dumplings, for this Slovak classic. Knedle is a different type of dumpling – it looks similar to a loaf of bread. You are often served four or five pieces with your pork. The dumpling is very soft and delicate, and it absorbs the juicy flavours from the meat and garlic, making it irresistible!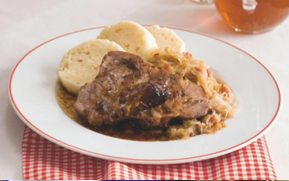 Fried cheese with French fries and tartar sauce (vyprážaný syr) is another classic meal. Allow the inner child in you to shine through as you enjoy this thoroughly unhealthy but thoroughly delicious treat. The only way to eat this dish is accompanied by a veľké pivo (large beer), or perhaps even two. It's the perfect food after spending hours paddling down the Hron river or descending a challenging trail in the Tatras. The type of cheese used is typically Eidam, and pickles are often served to accompany this dish.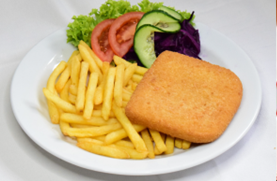 Schnitzel (vyprážaný rezeň) can be ,except of Austria, found also in Slovakia. You will find different varieties of schnitzel on the menu at almost every restaurant. A thin slice of pork is first tenderised and then fried with breadcrumbs. A mayonnaise-based potato salad is often served as a side dish. If you want to take your schnitzel experience up a notch, order bačovský rezeň, which is schnitzel topped with ham and melted cheese.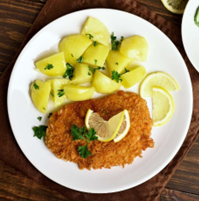 Potato pancakes (zemiakové placky) are definitely a must. Placky can be found on street markets. It can be served with meat that is cooked in sauce, but it can be also served as a side dish or an accompaniment to soup or it can be eaten alone. The best potato pancakes are fried in lard (bravčová masť) and are crunchy on the outside but gooey on the inside. They should be eaten warm with sour cream, kefir or soured milk.
Funnel cake (trdelník) is a well known desert known from Czechia to Romania. It has a special place in Slovak hearts tough. In town of Skalica, you can find a special kind of this cake, which is labelled by EU as Protected designation of origin. Funnel cakes are amazing in winter, served warm at a Christmas market with a mug of mulled wine. The sugar and cinnamon melt delicately in your mouth, and the cake gives you the energy you need to spend hours exploring.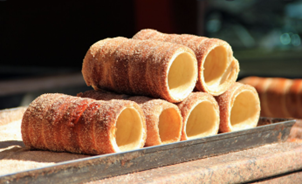 Slovak alcohol
Inseparable part of the Slovak culture is also alcohol. Starting from beer, you can find many varieties, types, and brands. Beer in Slovakia is cheap for us, and this is true twice for foreigners. When you leave popular tourist destinations you can find really good beer for 1,2 EUR for half a liter. It is often very close in price to popular non-alcoholic Kofola (something like Coca cola or Pepsi, but on tap and much better). The most popular beer brands are Urpiner (which is made in Banská Bystrica, won European beer star and also won as best beer in Czech republic among the best Czech beers), Šariš, Steiger, and Zlatý bažant, but nowadays you can find a lot of small breweries that sell beer only in their own pub, these can be found especially in larger cities.
Slovak wines are not so well-known as wines from France or Australia, but in southern Slovakia, you can find lot of wine regions that produce at least equally tasteful wines. You can trust us, that you will definitely find a good quality wine. From eastern Slovak Tokai, trough Tramín červený (Gewürztraminer) Irsai Oliver, Muškát moravský to Chardonnay, Sauvignon, Pinot gris and Pinot blank. Last but not least, red wines include Frankova modrá, Svätovavrinecké, Cabernet Sauvignon and Alibernet.
The kind of alcohol, that are foreigners not very used to are spirits, as it is not usual to mix them in drinks, but rather drink them as shots. Still, the most important thing to know when it comes to drinking in Slovakia is that some locally brewed spirits may be stronger than what you are used to, and that the standard shot glass is 40 ml, which may be more than what you are used to, too :) Slovakia produces some well-known spirits and they all have a common name pálenka which means schnapps.
Slivovica is the most traditional Slovak drink. It has a plum taste, and quite strong (37,5 – 52 %). You can also find this plum brandy under the name slivka. It is important to mention, that there is difference between these two names: Slivovica is a destilate made from plums, but Slivka has only taste of plum. The most famous brand is Spiš Originál. There are also other flavours of this drink. The most popular is the pear one with the name hruškovica or hruška but you can also try the blueberry (čučoriedka), raspberry (malina) or apricot (marhuľa) flavours.
The next very popular drink in Slovakia, that has to be mentioned is Borovička. It is a alcoholic beverage with flavor of the juniper berries. It tastes similar to a dry gin and contains about 40% alcohol. As a benchmark, the minimum alcohol amount required by law in Slovakia is 37,5%. There are more major brands which produce it.
Last but not least Tatratea. This drink originated in the High Tatra mountains. The story goes that people in the mountains used to drink herbal tea mixed with concentrated alcohol to keep themselves warm. Tatratea is composed of black & white teas, herbs and natural fruit extracts and it comes in many flavors. Its most popular drink is Tatratea 52 % Original but you can get bottles from 17 to 72 %. The best is to drink it chilled or with an ice cube, and it also serves as the basis of long mixed drinks.
All these types of alcohol can be considered as Slovak national drinks but there are many other kinds of spirits as Demanovka, Karpatské brandy or vodka, gin and absinth.