ESN STUBA
Slovak University of Technology in Bratislava is a modern educational and scientific institution founded in the year 1937. At present, the STU consists of seven faculties based in Bratislava and Trnava. All the faculties provide a study in accredited study programs within the complex system of a bachelor, master and PhD. study. Faculties realise credit system compatible with the European credit transfer system enabling mutual mobility of students within European Union member countries and a larger European space. In the area of scientific and research activities the STU successfully joints European Union programs. 
STU is a public university and offers education mainly in: technical, technological, technical-economical, technical-information and technical-artistic fields of study using the modern methods of education, laboratories and practical training. It is aimed at the study branches with stable opportunities of students' employment at the labour market.
ESN STUBA is the organization acting on Slovak University of Technology founded in 2012 as a part of ESN Slovakia. Since then we are doing our best to offer help to foreign students coming to our university but also to the Slovak students seeking for a way to study abroad. Our aim is to make the Erasmus life easier but unforgettable and full of experience and adventures. Therefore we are cooperating with other ESN sections in Bratislava and are able to offer a variety of special events and trips, as well as the help to Erasmus students through buddy system.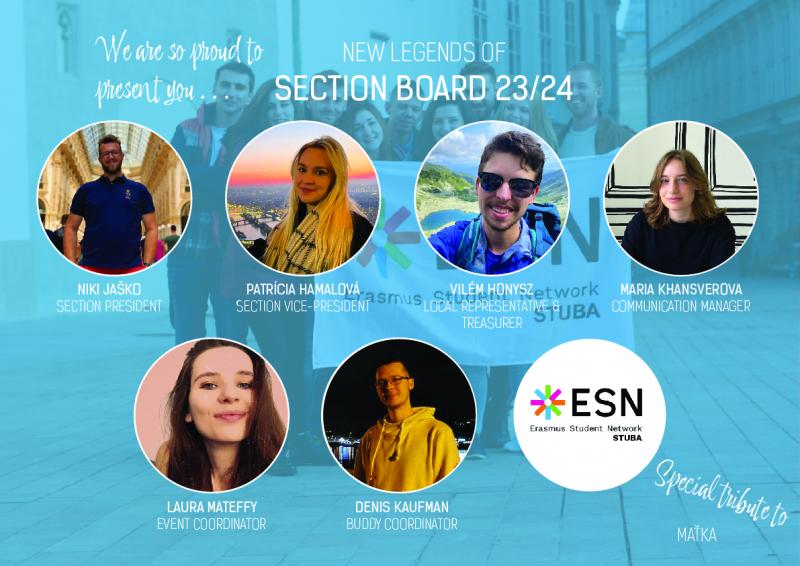 Section Board of ESN STUBA (2023/2024):
Section President: Niki Jaško  - stuba.president@esn.sk
Section Vice-President: Patrícia Hamalová  - stuba.vice-president@esn.sk
Communication Manager: Maria Khansverova - stuba.communication@esn.sk
Local Representative: Timea Trenčanová  - stuba.lr@esn.sk
Event Coordinator: Laura Mateffy - stuba.event@esn.sk
Buddy Coordinator: Denis Kaufman - stuba.buddy@esn.sk
Webmaster: Timotej Karol Bendel - stuba.webmaster@esn.sk
Contact
Erasmus Student Network Slovenská Technická Univerzita v Bratislave, o.z.
Vazovova 5, 81243 Bratislava-Staré Mesto, Slovenská republika
General contact: stuba@esn.sk
FB events Page : ESN STUBA https://www.facebook.com/ESNSTUBA/  
Instagram: https://www.instagram.com/esn_stuba/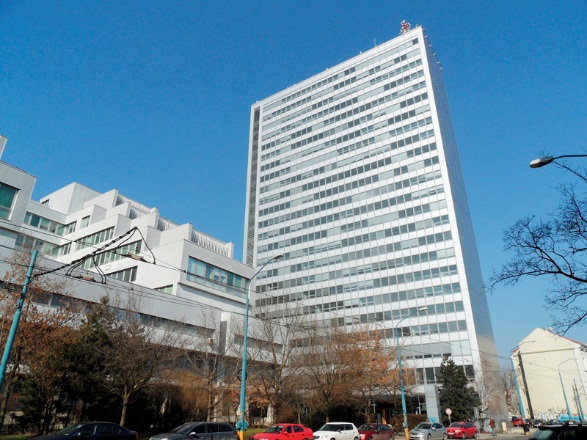 Previous section Board of ESN STUBA (2022/2023):
Section President: Martina Piatriková  - stuba.president@esn.sk
Section Vice-President: Jakub Dudáš  - stuba.vice-president@esn.sk
Communication Manager: Bronislava Masárová - stuba.communication@esn.sk
Local Representative: Timea Trenčanová  - stuba.lr@esn.sk
Buddy and Event Coordinator: Niki Jaško - stuba.buddy@esn.sk
Previous Section Board of ESN STUBA (2020/2021):
Section President: Michal Kázsmér  - stuba.president@esn.sk
Section Vice-President: Daniela Maurycová  - stuba.vice@esn.sk
Treasurer: Kristína Šeligová - stuba.treasurer@esn.sk
Communication (PR) Manager: Blanka Gažová - stuba.communication@esn.sk
Local Representative: Martina Piatrikova  - stuba.lr@esn.sk
Webmaster:  vacant - stuba.webmaster@esn.sk
Social Erasmus Coordinator: vacant - stuba.socialinclusion@esn.sk
Event Coordinator: Blanka Gažová - stuba.event@esn.sk
Buddy Coordinator: Ondrej Hanko - stuba.buddy@esn.sk
HR : Martinka Piatriková
Previous Section Board of ESN STUBA (2019/2020):
Section President: Miriama Butková  - stuba.president@esn.sk
Section Vice-President: Michal Kázsmér - stuba.vice@esn.sk
Treasurer: Kristína Šeligová - stuba.treasurer@esn.sk
PR Manager: Daniela Maurycová - stuba.communication@esn.sk
Local Representative: Martina Piatrikova  - stuba.lr@esn.sk
Webmaster: Mário Valkovič - stuba.webmaster@esn.sk
Social Erasmus Coordinator: Marta Džoganová - stuba.socialinclusion@esn.sk
Event Coordinator: Cindy Baloghová - stuba.event@esn.sk
Buddy Coordinator: Ondrej Hanko - stuba.buddy@esn.sk
Previous Section Board of ESN STUBA (from April 2018):
Section President: Zuzka Škutilová  - stuba.president@esn.sk
Section Vice-President: Michal Kázsmér - stuba.vice@esn.sk
Treasurer: Miriama Butková - stuba.treasurer@esn.sk
PR Manager: Miriama Butková - stuba.communication@esn.sk
Local Representative: Andrej Lovász  - stuba.lr@esn.sk
Webmaster: Maros Cavojsky - stuba.webmaster@esn.sk
Social Erasmus Coordinator: Martina Piatrikova - stuba.socialinclusion@esn.sk
Event Coordinator: Monika Kováčová - stuba.event@esn.sk
Human resources (HR):  Andrej Lovász
Buddy Coordinator: Peter Pelachy
Previous Section Board of ESN STUBA (from July 2017):
Section President: Zuzka Škutilová  - stuba.president@esn.sk
Section Vice-President: Michal Kázsmér - stuba.vice@esn.sk
Treasurer: Miriama Butková - stuba.treasurer@esn.sk
PR Manager: Miriama Butková - stuba.pr@esn.sk
Local Representative: Radka Lesná - stuba.lr@esn.sk
Event Coordinator: Marek Lettrich  - stuba.event@esn.sk
Webmaster: Maros Cavojsky - stuba.webmaster@esn.sk
Social Erasmus Coordinator: Martina Piatrikova
Section Board of ESN STUBA (from year 2017):
Section President: Michal Strmeň 
Vice-President: Jozef Vajdiar
Social Erasmus: Jozef Vajdiar
Treasurer: Lenka Repková
PR Manager: Zuzka Škutilová 
Buddy Coordinator: Danko Bucko, Andrej Lovasz 
Event Coordinator: Danko Bucko , Lenka Repková 
IT responsible: Maros Cavojsky 
Local Representativ + HR: Radka Lesná 
Section Board of ESN STUBA (as of winter semester season 2015/2016 ):
Section President: Milan Rafaj 
Vice-President: 
Treasurer: Lenka Gallová
PR Manager: Martin Macák 
Buddy Coordinator: Ivana Kubínová 
Event Coordinator: Ivana Kubínová 
Webmaster: Milan Rafaj