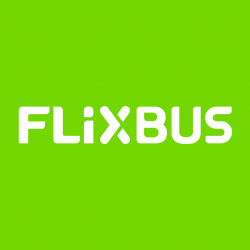 Green and smart mobility to experience the world.
(Note: The vouchers are redeemable through FlixBus App only.)
Green and smart mobility to experience the world.
Affordable, Convenient, and Eco-Friendly, with more than 400,000 daily connections to more than 2,500 destinations in 35 countries, FlixBus offers you the opportunity to discover all of Europe.
Redeem your 10% FlixBus voucher through FlixBus App (does not work on the browser) between 01.10.2022 and 31.3.2023, with the exception of the black out period from 15.12.22 to 10.01.23 (vouchers don't work during this period), travel with green buses, and enjoy your ride!
Getting you from A to B stress free: thanks to real-time bus stop information, up-to-date and current bus schedules, helpful staff, and friendly on-site bus drivers, you don't need to worry about a thing. You can plan your bus trip and jump on board feeling completely relaxed. Your ticket is your guarantee to a comfortable seat on board along with Wi-Fi and plug sockets - on each one of our buses! So, you can surf the web, watch movies, and stay connected for the duration of your journey.

Enjoy 10% discount with your voucher.
It is simple
1. Log in with your ESNcard account.
2. Get your unique code*.
3. Select your bus rides from the FlixBus App.
4. Before proceeding to payment, redeem your voucher and get 10% off.
5. Enjoy your ride!
Check the route map HERE.
Terms & Conditions
You can claim up to 12 vouchers per ESNcard.
The vouchers are redeemable through FlixBus App only.
The vouchers are valid for trips with departure dates between  1.10.2022 and 31.3.2023, except the black out period from 15.12.2022 to 10.01.2023
 There are no restrictions for the lines and connections bookable on FlixBus App.
 The voucher cannot be combined with other voucher codes.
 Subsequent crediting of a voucher to an already made booking is not possible.
A cash payment of the voucher amount is not possible. The resale and the publication of vouchers are prohibited.

Additional info for rides in Turkey: 

 - Kamil Koç serves as the FlixBus contract partner for transportation services in Turkey.

 - It is necessary to download the Kamil Koç app, for all rides within Turkey, as the discount will only apply to tickets purchased via Kamil Koç mobile application.

- Once the app is installed, click on the menu to change the language. This way, it will be possible to easily navigate through the app and pay in the preferred currency.
Advanced health and safety procedures
FlixBus has implemented a number of precautions and extended its internal regulations for
passengers to reflect the best practices in hygiene. These include among others:
Obligation for passengers to cover their mouth and nose during check-in and ride (same
applies to drivers);
Contact-less tickets and documents control at the boarding;
Obligation to disinfect hands by passengers when entering the vehicle (hand sanitizers
provided by the carrier);
Boarding via the rear door only;
2-meter spacing while boarding;
Professional, comprehensive disinfection of vehicles after each journey.
FlixBus asks all passengers to closely monitor their well-being and travel only while healthy. On top of
the aforementioned rules, travellers are obligated to observe local laws and preventive measures
mandated in the country they are in. For more information, please visit our Safety Update page.
Disclaimer: "Please be informed of the following information regarding COVID-19 updates whilst using your FlixBus benefit. By selecting your language, you will be redirected to a more detailed overview of the current situation in your country."
Link: https://global.flixbus.com/coronavirus-information
*You can claim up to 12 vouchers per ESNcard.